Folkloric
Flower-Embroidered Evening Coat
$699
Couture embroidery defies winter with the promise of spring flowers. This stylish topper dazzles with its embroidered flower design, symmetrically placed at the front, back, and sleeves.
Product Details
• 100% Polyester
• Sugar Swizzle White, Teaberry Pink, Black, Java Brown, Nightshade Purple, Citronelle Green, Lush Meadow Green, Meerkat Brown
• Easy fit
• Faux-wool coating with placed primrose and tulip embroidery
• Jewel neck, front edges, and sleeve openings with self facing
• Shiny nickel hook and eye closure
• Bracelet sleeves
• Side-seam pockets
• Inside teaberry pink grosgrain ribbon trim
• Taffeta lined
• Dry clean
• Length: 40 1/2" from high point shoulder based on size 8
• Style Number: 2-JK-2272
Shipping & returns
Standard shipping is complimentary on all orders. Returns are accepted within 30 days of you receiving your order unless otherwise stated. Learn More
Please Note: Sale items are final sale.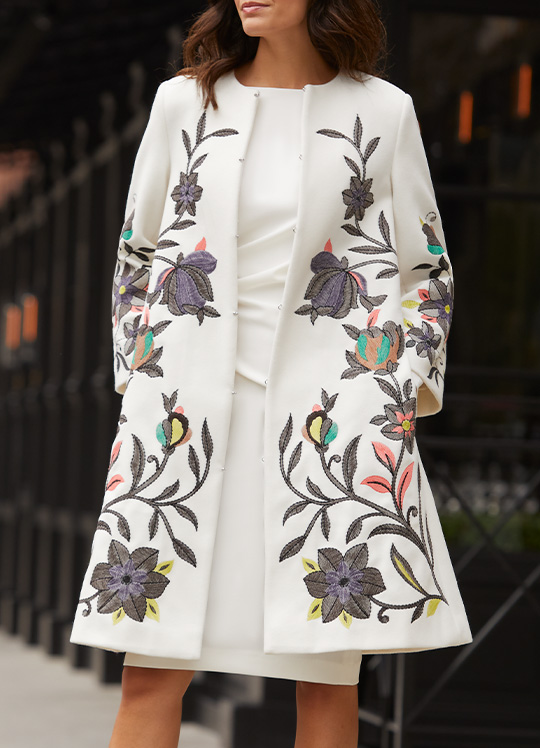 HIBERNATION STATION
Prepare for the big mercury drop in cozy pieces that recall the luxurious bundling of fashion's golden age. Anything with this much style will never be tagged as a mere pragmatic measure against the cold, even though, with this cozy material, it certainly is.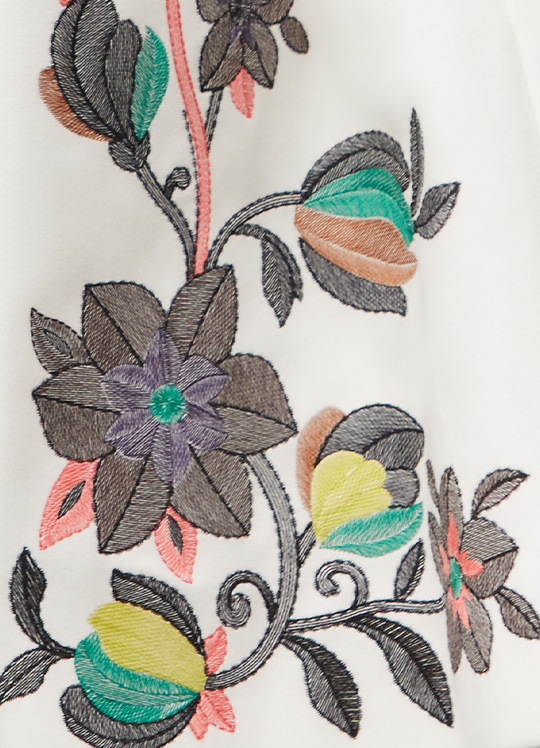 GET CREATIVE
Figurative art designs are trending. When done right, they are an infinite source for conversation among fashion lovers. This look features an inspired primrose and tulip embroidery that might be called collectable. The cozy white fabric pops with the seven embroidery colors.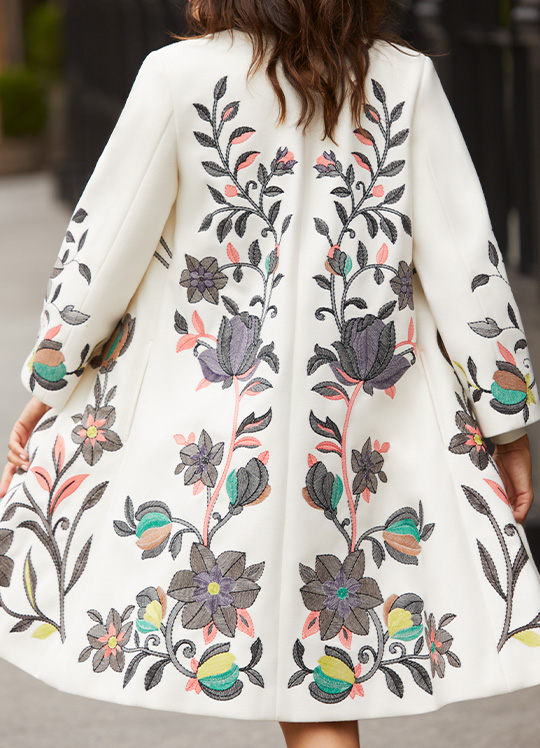 SWEET WINTER WHITE
Winter white fashions, in this case sugar swizzle, have a magical allure, evoking a sense of elegance and purity. They stand out against the typical darker winter palette, creating a striking contrast. The crisp, clean tone exudes sophistication, while embodying the enchanting beauty of snow-covered landscapes. Winter whites bring a touch of ethereal charm to any outfit.